Green Party candidate for St Laurence ward, Oli Thorn, at the Prince Avenue (A127) AQMA.
Air Pollution in Southend returns to pre-pandemic levels, as Centre for Cities publishes new data:
The Centre for Cities has this week published a briefing of its research into air pollution and the impact of the Coronavirus lockdown on air quality in large towns and cities.
Whilst many residents noticed improvements to air quality during the lockdown months, new data suggests that this temporary reprieve was short-lived. Of the 49 areas it studied, it found that following the lifting of national restrictions the air pollution in 39 towns and cities returned to pre-pandemic levels despite economic activity not doing the same. In the case of Southend, recorded air pollution levels exceeded the pre-lockdown levels.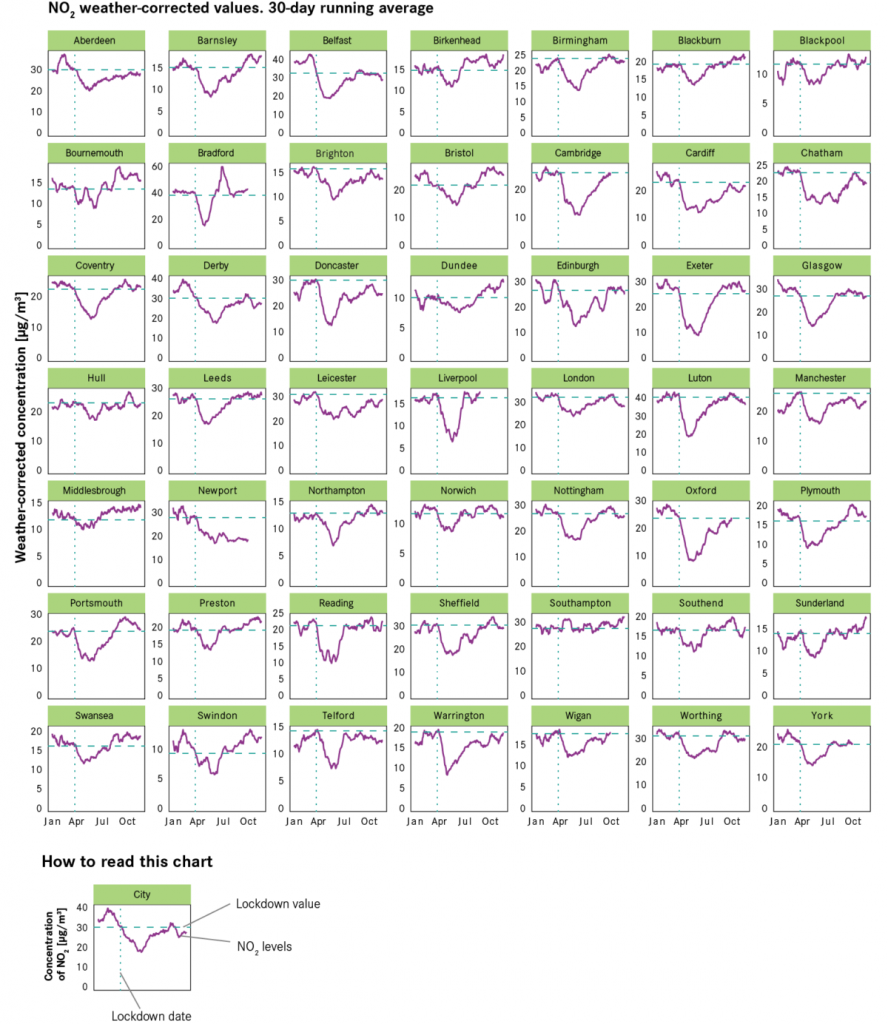 Evolution of NO2 concentration levels before and after the introduction of the first national lockdown. (© Centre for Cities)
They go on to suggest that "… the long-term impact of the pandemic may be to make pollution worse as changed behaviour becomes entrenched even as economic activity is restored." and that "policy needs to disincentivise car and other vehicle usages to improve air quality."
Air pollution is a silent killer. Research shows it causes 40,000 deaths a year. A recent study also suggested that 15 per cent of Covid deaths could be attributed to air pollution, through its harmful impact on cardiovascular and respiratory conditions.
Centre for Cities' Chief Executive Andrew Carter said:
"Toxic air has contributed to the deaths of thousands of Covid-19 victims this year and, even after the pandemic ends, will remain a big threat to health – particularly for those living in urban areas. City leaders can reduce the threat of air pollution, but it will take political will. Discouraging car usage will be unpopular in the short-term but, if coupled with the necessary improvements to public transport, the long-term benefits to public health and the economy will be huge and our cities will become better places to live. Now is not the time for politicians to delay on this."
---
Southend has its fair share of Air Quality problems.
Main roads such as the A127, with hotspots like Prince Avenue, are glaringly-obvious issues.
In 2016, the Council implemented an Air Quality Management Area (AQMA) for the area surrounding the Bell Junction and has been 'monitoring' the issue ever since. Despite four years of the AQMA, latest figures from Friends of the Earth suggests that the area still receives Nitrogen Dioxide (NO2) figures of 45.2µg/m3, exceeding the World Health Organisation's safe upper limit of 40µg/m3.
West Street, East Street, and Priory Crescent have also recently been touted by the council as potential new AQMAs, with these hotspots reaching as high as 51µg/m3 of NO2 in tests.
But whilst the A127 has received attention from the media and the council, other areas of high NO2 and PM2.5 particulate emissions including; London Road by Chalkwell Park, the Victoria Gateway leading on to Queensway, and the many miles of residential housing underneath the Southend Airport flightpath have been completely overlooked, and remain a persistent cause of concern for residents.
The council has recently announced as part of its plan to tackle air pollution, it will be spending £120,000 per year for five years on "Air Quality Specialists" to advise the council in its new Local Plan.
What the council seems to forget is that simply watching a ship sink from a distance does nothing to prevent drowned sailors.
Despite the implementation of the single AQMA in 2016, and the prospect of a few more arriving in coming months, regardless of expensive advisors, monitoring alone does not equate to firm action on the issue; it's that last part the Council seem keen to avoid.
---
So, what can be done about air pollution?
The council maintains that air quality issues exist only in small "but controlled" areas. To date, councillors and officers alike continue to suggest that air quality issues exist only within the confines of the existing AQMAs and that long-term monitoring will at some point inform future decisions.
The problem is that poor air quality is a serious borough-wide issue affecting residents' health now, and the causes and solutions are obvious.
It will come as no surprise that the root cause of a vast majority of Southend's air pollution issues stems from transportation. This can be broken into three distinct categories, each with individual solutions. These are:
1: Cross Town Transit
The biggest category of this pollution is predominantly cross-town transit; residents moving via car within the confines of the town, conducting daily activities such as going to work, dropping the kids off to school, shopping, visiting friends and family etc.
A dramatic shift is required to transition these cross-town trips from residents' own cars to greener alternatives like public transport and active travel such as cycling and walking. For that to happen, we believe that the Greenest option should always be the cheapest and most convenient option.
Bus use across the town remains low compared to other towns, and the mishmash, disjointed, and dangerous cycle routes and infrastructure across the town actively discourage the town's many would-be cyclists.
A substantial improvement in the reliability, accessibility, and affordability of public transport is key to this transition. The council can play a useful role in aiding this by prioritising public transport in town planning with new dedicated bus lanes, by identifying new and convenient transport corridors, implementing new safe segregated cycle routes, and by installing 'alternative travel' signs and waypoints.
The Green Party commit to completely overhauling our patchy and unreliable bus networks through greater partnership with the borough's bus operators, and we will deliver unprecedented investment into cycling infrastructure, with new routes and street furniture, allowing for the swift and clean cross-town transit that our residents deserve.
You can read more about what we stand for in Our Manifesto.
2: Tourism & Visitors
A secondary source of much of the town's traffic (and subsequently pollution) is seasonal tourism to the town's seaside attractions and year-round visitors from neighbouring areas.
Whilst in an ideal world all tourists visiting the town would do so via one of the two rail lines, this unfortunately still isn't the case for most of the families that visit the town each summer. We shouldn't seek to put off daytrippers, however, so the emphasis then has to be how to make travel to Southend for tourists convenient and enjoyable, whilst also reducing the number of polluting vehicles entering the town.
An option for a Park & Ride facility has been suggested before, and it's a scheme that (pending feasibility tests) is something that we would happily support, and that would hopefully reduce the overall number of vehicles entering the town. This concept would secondarily reduce the amount of stationary and slow-moving traffic experienced throughout the town during warm weather. Similar schemes have proved successful in Ipswich, Colchester, and Chelmsford.
The council also has the ability to implement a borough-wide Low Emissions Zone, restricting the most polluting vehicles from entering the town, similar to schemes already in place in London and Oxford. Such a scheme, if in combination with improved electric car charging points in all car parks, could see a dramatic reduction in the number of older inefficient vehicles using our congested streets.
3: London Southend Airport
London Southend Airport is undoubtedly one of the (if not, the number one) biggest polluting businesses in Southend.
In 2019, the Airport handled 32,655 aircraft movements, ferrying over 2million passengers; with plans to expand that figure to 10M passengers by 2030. Every plane that takes off subjects thousands of homes underneath the flightpath and beyond to substantial levels of NO2 and PM2.5 emissions and noise, significantly contributing to the pollution affecting the health of residents across the town.
The significant NO2 and PM2.5 pollution impact of the airport are second only to its inherent (and worsening) CO2 emissions. This pollution output is not only from direct aviation operation (planes) but additionally from the many cars (staff and passengers) and cargo vehicles travelling to and from the Airport and adjoining terminals on a daily basis.
This environmental impact will only worsen with the completion of the new Airport Business Park, creating airport-dependent businesses, and giving the airport more clout in its arguments of 'expansion for survival'. This includes the deeply-unpopular Amazon cargo night-flights that have been disturbing half the town's sleep for months.
To date, almost all Councillors in town have been nothing but supportive of this polluting industry, citing the economy and employment. Calculations that have been undertaken by local FoE Environmentalist Jon Fuller, however, prove that far from being a net benefit to the town, the airport actually exacerbates a £181Million deficit, with more money leaving the town than is brought inward from tourism and generated in employment.
As the Airport sets its sights on further and further increase and expansion, we'd suggest that the Council seriously considers its contradictory position of on-paper "wanting to address" the Climate Emergency whilst also blindly supporting the biggest polluting industry in Southend.
The Green Party oppose any further expansion or financial support of Southend Airport and businesses that are ancillary to its existence, pursuing all options to ban night flights, ban weekend flights before 10 am and seek an airport contribution to acoustic insulation grants for residents adversely impacted by noise.
---
Green Party Coordinator for South East Essex, James Vessey-Miller said;
"This new data should be of serious concern to Southend Council. Kicking the issue into the long grass by conducting long and expensive studies, when we already know the causation and the solutions to the problem isn't quite the urgency that was promised when the council ceremoniously declared a 'Climate Emergency' in 2019.

Poor air quality has and is continuing to kill people as well as significantly impact the cardiovascular and respiratory health of many residents, including schoolchildren. With several schools, a hospice, and a hospital close to the (existing and proposed) AQMAs, and many more people impacted by this scourge, it's high time the council took the necessary actions to tackle this sufficiently.

The existing AQMAs aren't the full extent of the problem, and health-impacting air pollution is a problem right across town. The council needs to urgently treat this as a borough-wide problem, and seek to make the tough but necessary decisions to protect the health of our citizens and take us forward.

SBC is yet to announce what areas these air quality specialists will be advising on, and if, crucially, these advisors will be given the independence to adequately challenge the council on its anthology of poor planning. Any expert worth their salt will tell the council that they're sitting on decades of misguided mistakes and that we urgently need to transform Southend to meet the oncoming challenges of Climate Change and ecological collapse."
Green Party Candidate for St Laurence Ward, Oli Thorn said;
"We've all seen the considerable reduction in congestion on our roads, and even the notably cleaner air in our community during the lockdown. The Government has been quick to praise this reduction in CO2 emissions this year, but emissions are rising back to normal. We can do better than returning to normal, we can push for implementation of more effective emission reduction policies, and create a New Normal of safer and cleaner air for our community."
---
If you would like to help the Green Party tackle air pollution in Southend, please consider becoming a member today.
---
Sources & Further Reading:
https://www.centreforcities.org/publication/covid-pandemic-lockdown-air-quality-cities/
https://airqualitynews.com/2020/10/27/15-of-global-covid-deaths-attributed-to-air-pollution/
https://www.who.int/news-room/fact-sheets/detail/ambient-(outdoor)-air-quality-and-health
https://www.echo-news.co.uk/news/18625942.polluted-road-southend-revealed/
https://www.echo-news.co.uk/news/18714444.polluted-southend-junctions-council-must-take-action/
https://www.echo-news.co.uk/news/18156969.southend-council-spend-120k-air-quality-specialist/
https://www.nhs.uk/news/lifestyle-and-exercise/safe-levels-of-air-pollution-could-still-be-harmful/
https://airqualitynews.com/2020/02/18/revealed-every-uk-airport-has-plans-to-expand/
https://www.echo-news.co.uk/news/18817727.tourism-southend-airport-takes-cash-country/