At the Southend Full Council meeting in March this year, South East Essex Green Party Coordinator James Vessey-Miller challenged Southend Council on its painfully-slow rollout of new council-owned EV charging infrastructure at public locations.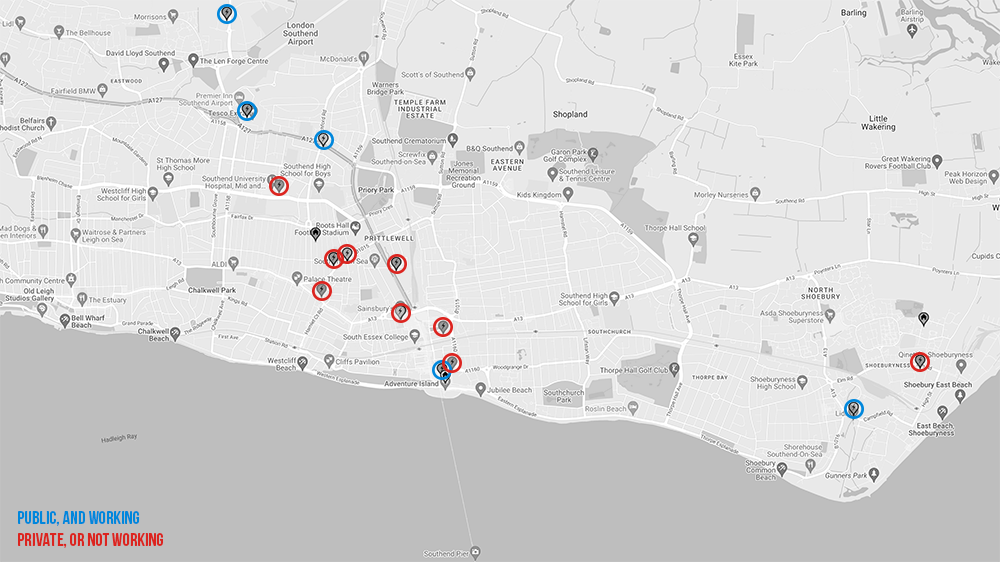 As part of his questioning, James criticised the council for its failure to maintain the few existing council-owned EV charging locations, and for its complete lack of ambition in planning new sites. At the moment, just ten public sites for EV charging exist in Southend, facilitating just 22 electric vehicles charging at any one time. This is simply insufficient given the ever-increasing rate of EV ownership in Southend.
He went on to warn the council that if they fail to plan for the anticipated widespread electric vehicle transition, then residential neighbourhoods across Southend could become littered with cables put out across pavements by residents with no off-street parking needing to charge their vehicles; a serious risk to those with restricted mobility, the elderly, and disabled people.
In the council's official response, Cllr Carole Mulroney (Liberal Democrat) cited "technical challenges" and Southend's "disparate substation network" as a core reason why the council wasn't installing new EV charging locations at the same rate as other UK cities are.
New research collated and published by the Green Party today shows that this is demonstrably false, with UK Power Networks confirming that every single secondary 11kV substation in Southend is capable of supplying one or multiple rapid DC electric vehicle charging units. UKPN also confirm that the grid can handle tens of thousands of new 'slow chargers' installed without any detrimental impact (or need for significant modifications) to the electricity connection across Southend.
In a video published by Mr Vessey-Miller today, he is quoted saying:
"We now know that any Councillor who says that the "grid can't handle it" is either lying because they don't want EV chargers, or they simply don't know what they're talking about.
"To help Southend Council make a more informed decision, I have collated all of this data from UK Power Networks and have given it to the Portfolio Holder and Southend Council for them to have a read-over. From now on out, if the Council say no to new EV chargers on the kerbside, they can't claim that it's because of the limitations of the grid connection.
"EV's aren't the silver bullet - I want public transport so accessible, dependable, and affordable that it's easier and cheaper to use buses and trains to get around than using cars. But I also recognise that failing to acknowledge that many people will transition to EV ownership, and as such, not thinking about how these people will charge their EVs would be a costly mistake."
The Green Party have provided the Council with all of the data collated, and we await their formal response.
---
You can see the interactive map from UK Power Networks here:
https://dgmap.ukpowernetworks.co.uk/site/?q=ev_ext