Full article below the petition:
Bus users are already contributing to building a cleaner city. By taking the bus, you're helping solve congestion and air pollution and help reduce the city's environmental impact. Thank you!
But Southend Council has consistently failed bus users across the city. For decades we've seen fares getting more expensive, vital routes being slashed, and services becoming more infrequent.
If we're to fix our problems with Air Pollution and meet our climate goals as a city, we urgently need dependable, accessible, and affordable public transport for everyone. That means having an integrated public transit system that makes walking, cycling, and public transit the cleanest, most affordable, and most convenient options across the city.
That starts by having a council that actually cares about buses, cycling, and walking.
Do you agree?
Join our campaign to pressure the council to make public transport in Southend better.
Please sign and share this petition.
The full story:
Buses in Southend are a crucial means of transport for local people. For many car-free households, our local bus services are the primary way that people commute to work and school, and it's how they make important trips to GPs and other local services and amenities.
In 2021 alone, buses in Southend travelled a combined 2.6 million miles across our roads, providing an invaluable connection for communities across the city. This connectivity helps the local economy thrive, and contributes to the independence, happiness, and well-being of our residents.
Buses also play an important role in helping reduce the city's air pollution and carbon emissions. Estimates from the Department for Business, Energy, and Industrial Strategy (BEIS) show that vehicles on our roads are responsible for a significant proportion of local carbon emissions, accounting for 29% of all estimated local emissions in 2019. Buses help reduce the overall number of vehicles on our roads and are a far more efficient means of mass transportation in both space and emissions than private car use.
Currently, a majority of the city's regular bus users are those from the BAME communities and the city's lowest-income families. Bus users making use of the National Concessionary Bus Pass accounted for around 40% of local bus trips in 2018/19. Town centre wards such as Kursaal, Victoria, and Westborough have the highest number of bus users compared with other wards; with Thorpe, Chalkwell, and both Leigh wards having the lowest average.
What's been happening with the buses?
The city's bus network clocked up 9.7 million trips in 2009/10, but that number has slowly declined to just 7.1 million in 2019/20.
As the city wrangles with areas of illegally-poor Air Quality and chronic congestion, the council should be promoting and prioritising bus use for our residents. Instead, poor planning and progressive declines in standards of service have resulted in a reduction in the number of regular bus users.
The council's own documents state: "Bus services in the town are not fulfilling their potential."
Southend has four private Bus companies operating twenty routes across the city. These companies flood the four main transit corridors with regular profitable services, whilst communities in Leigh, Shoeburyness, and Eastwood are largely disconnected from the network; only receiving infrequent and often meaningless connections.
Pre-pandemic data showed that 40% of services across the network (over 14,800 timing points) were over five minutes late. Users have also noted a worsening reduction in the frequency of services, whilst also bearing the full weight of higher and higher annual fare increases.
Bus use in the city is also low compared with other cities. York has a comparable population to Southend, yet achieved 4.4 million bus miles in 2021.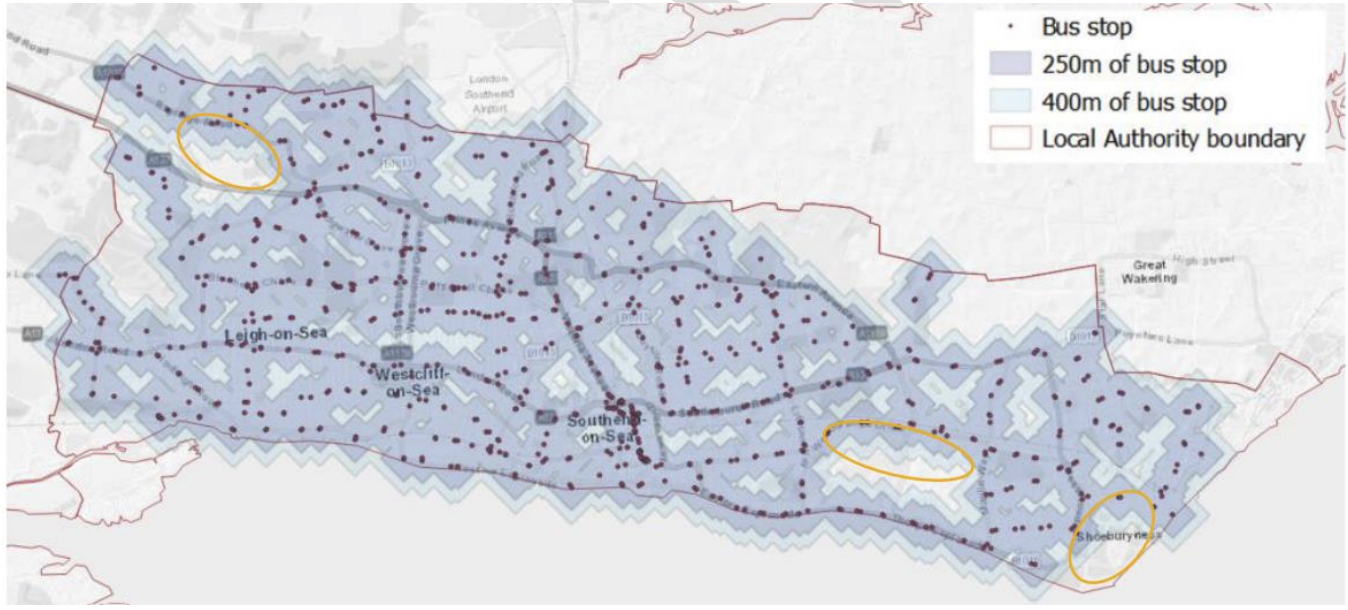 Analysis by Mott MacDonald shows walking distance to the nearest bus stops in Southend.
The connectivity of the network is also poor, with services often only operating via the town centre as an interchange. For example, there is currently no direct service from Eastwood to Leigh. To make that simple journey via bus would take you three times as long, necessitating a change in the Town centre.
It is obvious to us that the city's bus services are broken, and are being run purely for profit and not for those who depend on them. 
As the climate emergency necessitates changes to our way of life, buses will be a vital tool in tackling our own carbon emissions. We think that all of the city's buses should provide a useful and interconnected service and that they should be reliable, accessible, and affordable to every resident.
What can we do to fix it?
The Green Party have launched the above petition, calling on Southend Council to work with the bus operators to improve the dependability, accessibility, and affordability of bus services across Southend.
Please sign and share this petition.
The Greens are also proud to pledge that we will;
Develop a new and ambitious Integrated Transport Plan, increasing the provision, reliability and affordability of Public Transport services;
Seek to work with existing local bus companies, reforming the Local Authority's Bus Working Group and Quality Bus Partnerships, and working to yield a significant improvement in the frequency, accessibility, the number of routes, and overall reliability of bus infrastructure across the borough;
Seek to introduce new night bus services across the borough, and improve the frequency and reliability of weekend bus services;
You can read the Green Party's full manifesto pledges for Sustainable Infrastructure & Better Transport here:
View Manifesto.